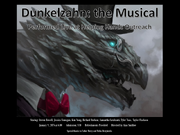 The infamous play,
Dunkelzahn the Musical
, was supposed to have been held as a charity play for
Father Mercy
. It was directed by a shadowrunner that went by the title "Macbeth." Scripts were provided by the Great Dragon Melns.
The play itself was plagued with bad luck that prevented it from finishing. During Act 1 Scene 1, as the actor playing Dunkelzahn came on stage, shots rang out. An unknown assailant had been sent to assassinate one of the audience members, the pop star Kimiko. The gunfire caused mass panic and confusin. To top it all off, the pyrotechnics had been tampered with, resulting in a fire that destroyed the building. By the time that Horizon security forces and KE had the situation under control, the building was destroyed and the director of the play was nowhere to be found. The play was never finished live.
Luckily for those who wished to experience the musical in it's full glory, an unknown entity known only as "Rip, Strip, and Stream" managed to record an early dress rehearsal and uploaded it to the matrix. The play is free to view for everyone, and can be found here